From Monday to Thursday of this week, all Austrian age-group national teams – i.e. the junior women (born in 2004) and junior men (born in 2003) as well as the two youth teams comprising of girls and boys born in 2006 and 2005, respectively, completed short training camps at Steinbrunn.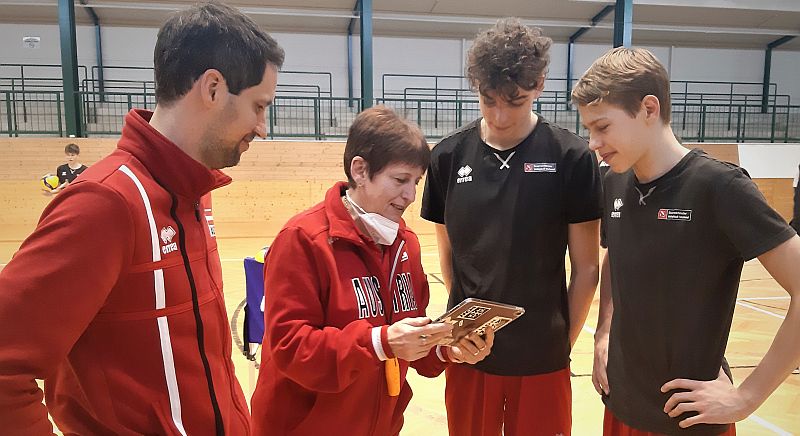 The programme featured work on technique and tactics but training matches too, including against the reigning European U17 men's champions from Slovenia. The Austrian boys coached by Nina Sawatzki were also present at the European Championship held this past summer in Tirana, causing a sensation with victories over Volleyball powerhouses Serbia and Italy.
Now in Steinbrunn, the Red-White-Red and Team Slovenia eventually drew 2-2 after agreeing on playing four sets. The Austrian juniors also practiced against the Slovenian national team and won all four sets.
"These camps at regular intervals are very important to see what condition the players are in, what development they are making and where they can improve. After all, they are in the middle of the season with their teams. The test against Slovenia was very positive, but it also showed what we have to work on."

Nina Sawatzki 
Head coach of the men's U17 team 
"We reduced the squad to twelve players for this camp and had really good quality exercises from the first training session. We were able to implement the things we worked on very well in the sparring match with Slovenia."

Marcus Hirczy 
Coach of the U19 team
The three to four-day camps planned monthly serve to prepare for the upcoming tournaments. While the MEVZA Championships are coming up for the junior teams between Christmas and New Year, the youth players will contest the first round of the European Championship qualification between January 6 and 9, 2022.