In the women's eighth-finals of the CEV Continental Cup Final in the Hague, Poland and Czechia had to resolve their first-round tie with a golden match, in which Kinga Wojtasik & Katarzyna Kociolek lived up to the expectations and mastered a 2-0 (21-12, 21-16) win over their Czech rivals Michaela Kubickova & Michala Kvapilova.
"It was such an important rubber! After a 1-1 tie, it was our last chance to proceed ahead. We played a very good game and we are very happy that we won. Now the weather is perfect comparing to two days ago, but we are aware that we have to play our best in different conditions."

Katarzyna Kociolek
Poland
Without resorting to golden matches, Austria, Greece, the Netherlands, Norway, Spain and Ukraine swiftly reached the last eight by outplaying Slovenia, Lithuania, Estonia, France, Finland and Italy, respectively, although some matches did get decided in tie-breaker sets.
The other of the two golden matches came from where it was probably least expected. Considered as the clear underdogs in Wednesday's clash with Russia, Cyprus surprisingly pushed their powerful opponents to a deciding third rubber before conceding.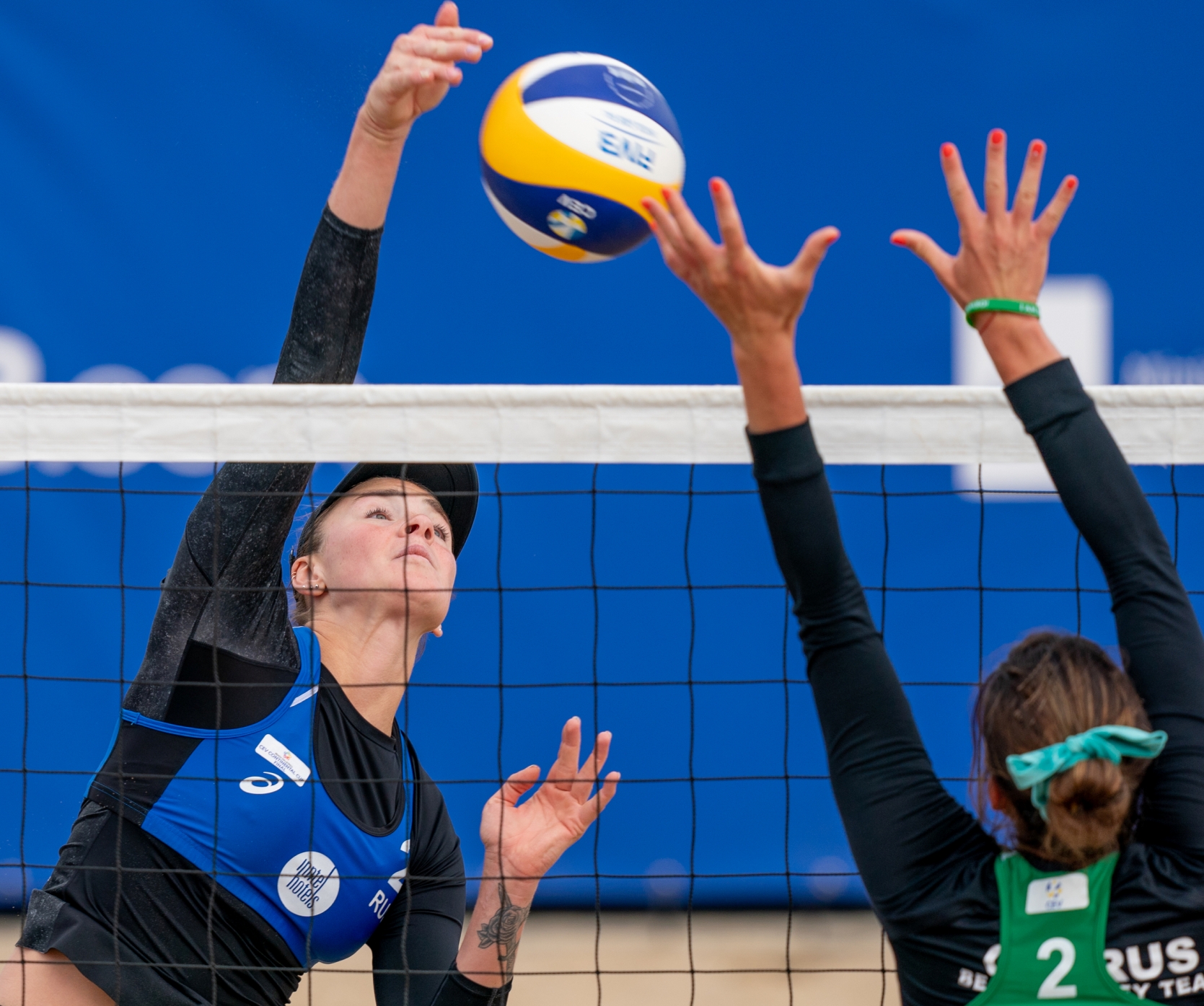 In a hard-fought first rubber, Cyprus's Erika Nystrom & Daria Gusarova lost in straight sets to Russia's Ksenia Dabizha & Daria Rudykh, but did so by the narrowest of margins in each of the sets, 0-2 (19-21, 19-21). In the second rubber, Mariota Angelopoulou & Zoi Konstantopoulou dropped the first sensation of the tournament by producing a 2-0 (21-16, 22-20) upset of Russian prodigies Mariia Bocharova & Maria Voronina. In the golden match, however, Dabizha & Rudykh were merciless on the way to a 2-0 (21-14, 21-8) blowout of Angelopoulou & Konstantopoulou to secure advancement to Thursday's quarterfinals.
"It wasn't an easy match, but we managed to stay focused when we had to. Of course, there was a little bit more of a tension because it was a golden match. We also had to adjust our ball touch because of the windy weather… We are now looking forward to the next games."

Ksenia Dabizha & Daria Rudykh
Russia