Nova KBM Branik MARIBOR continued their impressive dominance in the women's MEVZA League on Monday evening. Slovenia's national champions needed four sets to overcome their closest pursuers ZOK Bimal-Jedinstvo BRCKO (BIH) 3-1 (25-17, 13-25, 25-8, 25-11) on home soil to extend their winning streak to tenth matches in a row.
As a result, Nova KBM Branik have secured the top place in the main round even though there are still some more matches to play. Bimal-Jedinstvo, Calcit Volley KAMNIK (SLO) and OK Mladost ZAGREB (CRO) are still battling until February 1 for the two remaining Final Four spots. GEN-I Volley NOVA GORICA (SLO) will be hosting the climax of this MEVZA season on February 8 and 9.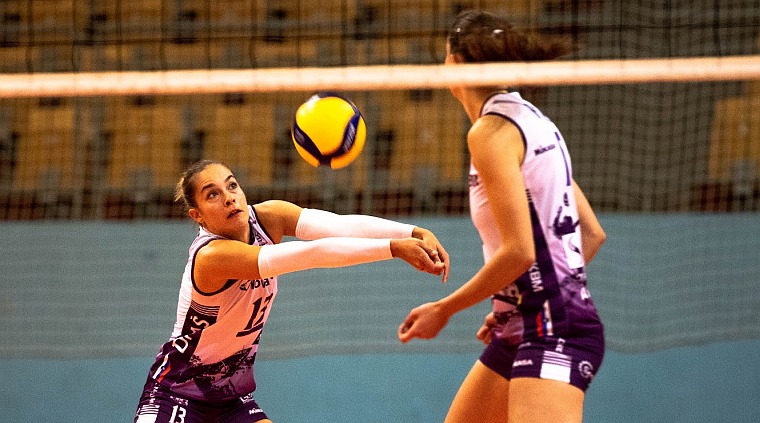 The women's competition is going to continue on Wednesday, when ZOK Bimal-Jedinstvo BRCKO (BIH) and HAOK Mladost ZAGREB (CRO) will be locking horns in the JU Gimnazija Hall in Brcko. The men's MEVZA League will resume on Wednesday as well with the matchup between rookies OK Mladost BRCKO (BIH) and OK MARIBOR (SLO).
Men's MEVZA League
15.01., 19:00: OK Mladost BRCKO (BIH) vs. OK MARIBOR (SLO)
17.01., 19:00: Union Raiffeisen WALDVIERTEL (AUT) vs. OK Mladost BRCKO (BIH)
18.01., 17:00: HAOK Mladost ZAGREB (CRO) vs. SK Zadruga AICH/DOB (AUT)
18.01., 20:00: Calcit Volley KAMNIK (SLO) vs. OK Mladost Ribola KASTELA (CRO)
Women's MEVZA League
13.01., 18:00: Nova KBM Branik MARIBOR (SLO) vs. ZOK Bimal-Jedinstvo BRCKO (BIH) 3-1 (25-17, 13-25, 25-8, 25-11)
15.01., 16:30: ZOK Bimal-Jedinstvo BRCKO (BIH) vs. HAOK Mladost ZAGREB (CRO)
18.01., 19:30: HAOK Mladost ZAGREB (CRO) vs. UOK Banjaluka Volley BANJA LUKA (BIH)
SPORTLIVE