MEVZA League rookies ZOK Bimal-Jedinstvo BRCKO (BIH) celebrated a stunning 25-19, 25-19, 25-12 sweep against OK KASTELA (CRO) on home soil. The win takes the reigning national champions from Bosnia and Herzegovina to the third spot of the current standing on 11 points with a 3-3 win-loss record. Andjelka Radiskovic and Ana Gajic top scored for ZOK Bimal-Jedinstvo with 17 and 13 points, respectively. Elena Vukic and Nika Stanovic split the best scorer honours for KASTELA with nine points each.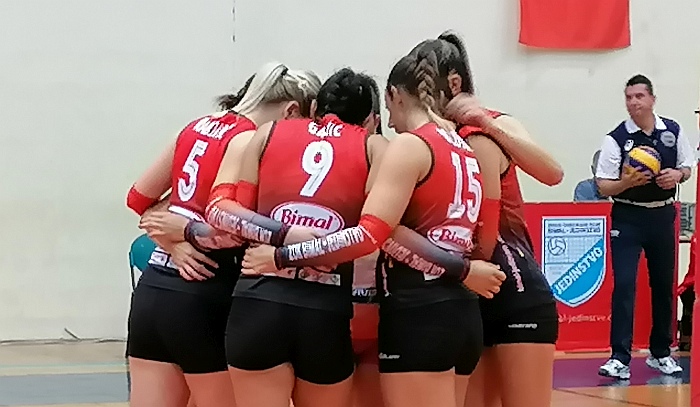 Saturday night, Calcit Volley KAMNIK (SLO) will stand the chance to clinch the top spot of the table with a home win over Mladost ZAGREB (CRO). Bottom of the standing UOK Banjaluka Volley BANJA LUKA (BIH) and third-placed GEN-I Volley NOVA GORICA (SLO) will end the first half of the women's main round on Sunday night. The hosts have not collected a single point for the standing in five matches they have contested so far.
Current competition leaders Nova KBM Branik MARIBOR (SLO) have their bye week. Therefore, they run the risk of dropping to second place behind their national rivals Calcit Volley.
Men's MEVZA League, week 8
23.11., 18:00: HAOK Mladost ZAGREB (CRO) vs. Calcit Volley KAMNIK (SLO)
23.11., 19:00: OK Mladost BRCKO (BIH) vs. OK Mladost Ribola KASTELA (CRO)
23.11., 19:00: SK Zadruga AICH/DOB (AUT) vs. OK MARIBOR (SLO)
round 13
24.11., 17:00: ACH Volley LJUBLJANA (SLO) vs. Union Raiffeisen WALDVIERTEL
Women's MEVZA League, week 7
22.11.: ZOK Bimal-Jedinstvo BRCKO (BIH) vs. HOK KASTELA (CRO) 3-0 (25-19, 25-19, 25-12)
23.11., 19:00: Calcit Volley KAMNIK (SLO) vs. HAOK Mladost ZAGREB (CRO)
24.11., 19:00: UOK Banjaluka Volley BANJA LUKA (BIH) vs. GEN-I Volley NOVA GORICA (SLO)
CEV European Cups (fixtures MEVZA countries this week)
CEV Champions League
Men, 3rd round, home match
20.11.: Benfica Lisboa (POR) vs. Mladost Zagreb (CRO) 3-0 (25-22, 25-20, 25-22)

Women, Pool B, round 1
20.11.: Lokomotiv Kaliningrad Region (RUS) vs. Nova KBM Branik Maribor (SLO) 3-0 (25:18, 25:14, 25:11)
19.11.: A.Carraro Imoco Conegliano (ITA) vs. Vasas Obuda Budapest (HUN) 3-2 (21-25, 25-20, 25-10, 23-25, 15-4)
CEV Challenge Cup
Women, 2nd round, away match
19.11.: THY Istanbul (TUR) vs. 1.MCM-Diamant Kaposvari (HUN) 3-1 (23-25, 25-9, 25-9, 25-21)
20.11.: VTC Pezinok (SVK) vs. SIP Sempeter (SLO) 0-3 (22-25, 21-25, 25-27)
SPORTLIVE