Mladost Zagreb, Bimal-Jedinstvo Brcko and Calcit Volley Kamnik all emerged victorious from the opening weekend in women's MEVZA League!
Mladost Zagreb started their campaign with a 3:1 (25-10, 22-25, 25-8, 25-15) win over newcomers HOK Kastela (CRO) on Saturday evening. Antonia Volmut topped the match scorers on a total of 21 points, including two aces. Elena Vukic scored 11 for the away side.
"It was a difficult game because we felt a little emotionally drained after the 3-0 Champions League home win over Khimik Yuzhny from this past Wednesday. Therefore, congratulations to my players. I have to take the responsibility for losing the second set", Mladost Zagreb head coach Sasa Ivanisevic explained.
Grgantov Zoran, Kastela's head Coach, missed two important players in the season's opener. "So we couldn't really expect a much better result against the favoured hosts. Congratulations to Mladost", he said.
Another two debutants in this year's competition, Bimal-Jedinstvo Brcko and Banjaluka Volley, contested the first Bosnian MEVZA League derby in history. Bosnia's national champions cruised to an impressive straight-sets (25-15,25-15,25-15) home victory. The best individuel performance was by Andjelka Radiskovic who managed to put 18 points to her name, Olga Uglenko recorded 10 points for Banjaluka Volley.
"Considering the four-sets loss at Partizani Tirana in Champions League three days ago, it was difficult to prepare the team for this game, but the effort paid off! With the arrivals of Andjelka Radiskovic and Alexandra Vajdova, we are slowly returning to form. Zana Dragutinovic was missing due to injury. We are hoping for a good result on Wednesday, when we host Partizani in the second leg", coach Zok Bimal-Jedintsvo Smail Pezerovic reported.
Banjaluka Volley coach Radmila Markovic: "First of all, I would like to congratulate Bimal-Jedinstvo. They deserved this victory. All the best for the clash with Partizani. However, my players did not play well in reception and the serve was somewhat off!"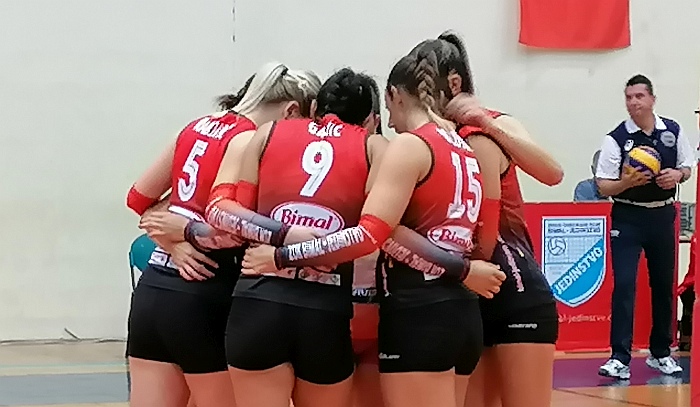 Slovenia's national champions Nova KBM Branik Maribor suffered a 0-3 (24-26, 22-25, 20-25) away loss at the hands of Calcit Volley Kamnik. Olivera Brulec Kostic top scored for the hosts with 17 points, Maribor's Anita Sobocan was the only to keep close with 16 points.
Gregor Rozman, head coach of Calcit Volley noticed that his team was a bit nervous, "so they did not start very well, but the longer the match went, the better we got into rhythm. I believe we can play significantly better. However, the first game is behind us and the outcome was favourable!"
Radovan Gacic, coach of Nova KBM Branik said: "Although we held the reception much better, we did not know how to capitalise on it. The home team, even though we were setting the block well, could score consistently. We were not able to take advantage of the counterattacks but this was just the first of many games ahead of us this season."
Middle European League Women 2019-20
12.10.: HAOK Mladost ZAGREB (CRO) vs. HOK KASTELA (CRO) 3:1 (25-10, 22-25, 25-8, 25-15)
12.10.: Calcit Volley KAMNIK (SLO) vs. Nova KBM Branik MARIBOR (SLO) 3-0 (26-24, 25-22, 25-20)
12.10.: ZOK Bimal-Jedinstvo BRCKO (BIH) vs. UOK Banjaluka Volley BANJA LUKA (BIH) 3-0 (25-15,25-15,25-15)
Schedule
19.10., 17:00: HOK KASTELA (CRO) vs. UOK Banjaluka Volley BANJA LUKA (BIH)
19.10., 17:00: Calcit Volley KAMNIK (SLO) vs. GEN-I Volley NOVA GORICA (SLO)
19.10., 18:30: HAOK Mladost ZAGREB (CRO) vs. Nova KBM Branik MARIBOR (SLO)
PHOTO © Calcit Volley KAMNIK
SPORTLIVE