Source: CEV. Winning Service (Petrol), The Stands will be full (NK Maribor) and EuroVolley 2019 (Volleyball Federation of Slovenia) won four prizes at the SPORTO Awards 2019 for best practices in sponsorship and marketing in the Adriatic region.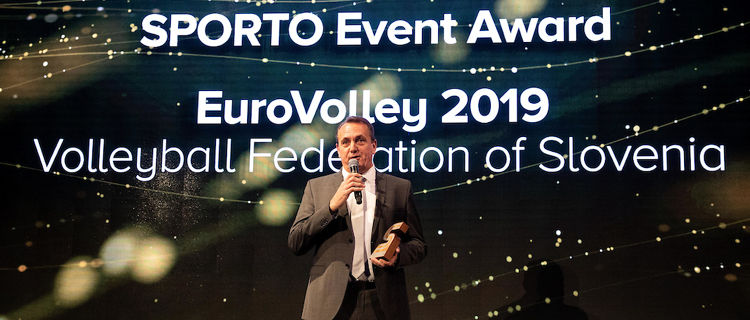 Sporto Conference is one of Europe's leading sports marketing and sponsorship events. It connects brands, rights holders, agencies, event organizers, athletes, students and other interested organizations and individuals within the sports business industry. 
The SPORTO Awards perfectly illustrate the capability of brands, rights holders and agencies to deliver the strategic goals of businesses in the region and are a shop-window of best practices.
The SPORTO Awards acknowledge and reward outstanding work in the field of sponsorship and sports marketing. The competition is open to applicants based in the Adriatic region (i.e. Slovenia, Croatia, Bosnia and Herzegovina, Serbia, Montenegro, and North Macedonia), as well as from Czech Republic, Slovakia and Hungary. It takes place in close cooperation with the European Sponsorship Association (ESA) and a number of national partners.
A panel of international experts chaired by ESA President Andy Westlake reviewed and assessed all entries for the various SPORTO Awards categories according to a pre-defined set of criteria in close cooperation with the European Sponsorship Association.
The jury awarded three awards to the EuroVolley 2019 project. The campaign 'Winning service' delivered by Petrol d.d. won in two categories, sponsorship and digital, whilst EuroVolley 2019 Men emerged as the best event of 2019 following an extremely extensive campaign that focussed on selling out a major event in Slovenia.
The Jury noted that the Organising Committee executed their work extremely well and delivered great results. Working on major events of this nature requires tenacity and determination and to achieve all the set goals gave this campaign a strong competitive advantage in the event category.
Picture above: the President of the Volleyball Federation of Slovenia, Metod Ropret, receiving the prize for the event of the year at the SPORTO Awards 2019