As the last season of their first Olympic cycle was approaching its end, Ondrej Perusic and David Schweiner were not sure if they would continue their journey in professional beach volleyball or return to their law studies and move away from the sport. However, shortly after reaching the gold medal match at the FIVB Beach Volleyball World Tour Finals in October, the Czech pair were sure of what they wanted to do. And here they are, ready to make their debut on the all-new Volleyball World Beach Pro Tour this week in Rosarito and embark on a quest to qualify for Paris 2024.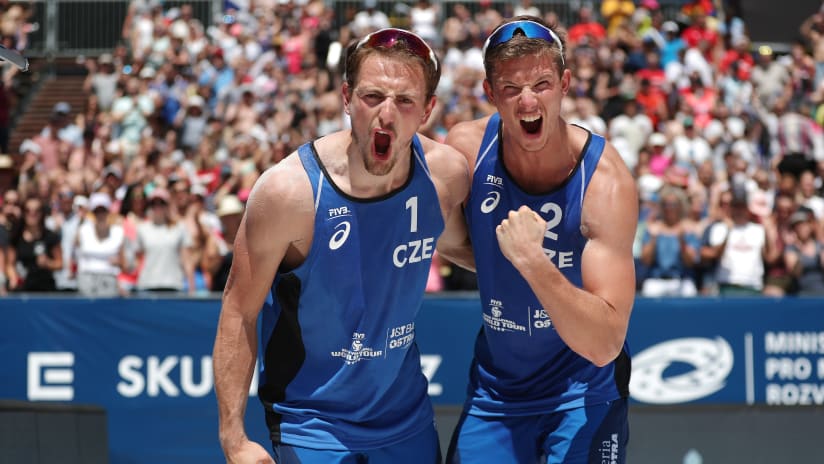 "When we started playing together back in 2015, all our goals and other plans were geared towards the 2020 Olympics, which in the end happened in 2021," 27-year-old Perusic told Volleyball World. "We knew that by the time we finish university we would have a better idea what to do afterwards – play professionally for a couple more years or just play for fun and pursue a working career. We discussed it many times over the last two years, not only within the team with the coaches, but also with our families, girlfriends and so on…"
2021 was generally a great season for the Czech team. They won as many as five World Tour medals and swiftly moved into the high end of the FIVB World Ranking. However, their result at the Tokyo 2020 Games was disappointing for reasons beyond their control. They had to forfeit their first match because of a positive coronavirus test and eventually that prevented them from progressing beyond the pool stage.
"I would say the Olympics was the breaking point for us," the 1.90m-tall defender continued. "It was supposed to be the peak of our cooperation and some sort of a reward for the energy and the money we had all put into this project. After such a disappointing tournament, we all decided that we wanted to finish in a different way, not like this. So we all wanted to work together for another three years and in the ideal scenario to crown this cooperation with a good result in Paris."
"Our motivation for Paris 2024 is to qualify again and make an appearance more positive than a positive PCR test," 2.00m-tall Schweiner joked. "One of the biggest goals for every athlete is to qualify for the Olympics. Over the last seasons, we proved that we were able to compete with the best teams, but got very unlucky in Tokyo last year."
While their long-term goal is clearly focused on Paris 2024, Perusic and Schweiner's mid-term objectives include the 2022 FIVB Beach Volleyball World Championships to be held in June. In their only previous World Championship appearance in 2019, they were eliminated by world-champs-to-be Viacheslav Krasilnikov and Oleg Stoyanovskiy before reaching the last 16, so they hope to do better in Rome this year.
"Our last result at the World Champs in 2019 is one we are not really proud of, so we would love to improve that too," said the 27-year-old blocker.
The new Olympic cycle for the number nine team in the current World Ranking is about to kick off on Thursday in Mexico, at the second stop on the inaugural Beach Pro Tour. They are seeded fifth in the Rosarito Elite 16 main draw and will share Pool D with fourth-seeded Dutchmen Stefan Boermans and Yorick de Groot, Mexican Olympians Josue Gaxiola and Jose Rubio and a team emerging from Wednesday's qualifiers.
"We are very curious what the new season, the new teams and the new system can bring us," Schweiner said. "Our long-term goal was always to get among the best teams in the world and stay there as long as possible. This is also a goal for this season, together with the improvement of our game system. We have been working on certain parts of the game and I hope we can implement improvements as fast as possible."
During the off-season, the Czech duo worked hard. They spent most of the early months of 2022 training in Tenerife, but they also took time to pass their state exams.
"We resumed practices in late November in Prague, but from January on, the majority of our preparation took place in Tenerife, which is a perfect place for intensive training camps with a lot of high-level teams to practise with," said Perusic. "We both extended our studies a little bit due to the Olympic qualification process, so we both had to go to Prague to pass the last state exam, and now we both hope to continue with some sort of a postgraduate programme at least until 2024."